Passport to Textured Hair Ingredients & Solutions
By and large, today's beauty industry has been built without curly hair in mind. Straight hair has taken the center stage in everything from the models we see, the hair products we know, or the hairstyles we're expected to wear. But that's changing thanks to the efforts of many passionate people who have put the proper emphasis on diversity in hair, and the natural beauty that comes with it.
Navigating the uncharted path
As anyone with curly or coily hair can attest, keeping natural hair happy can be a tough enough gig on its own without having to sort through products not meant for a particular hair type. Learning how to treat your textured hair naturally can be a path that seems uncharted.
If you are looking to create quality textured hair products, you should know that this is not a task you have to undertake alone – BASF is here to help. In our efforts to show natural hair the love it deserves, we've partnered with Monica Stevens a professional hair stylist and influencer to help meet those needs. We've taken Stevens' valuable insights about consumer needs directly to the laboratory to further optimize testing methods specifically made for curly and coily hair. Then we tested our ingredients for the hair needs those consumers have most identified, such as conditioning, repair, and frizz management.
+ Watch Monica's video discussing her work on our 'Reinventing the Wheel' Tool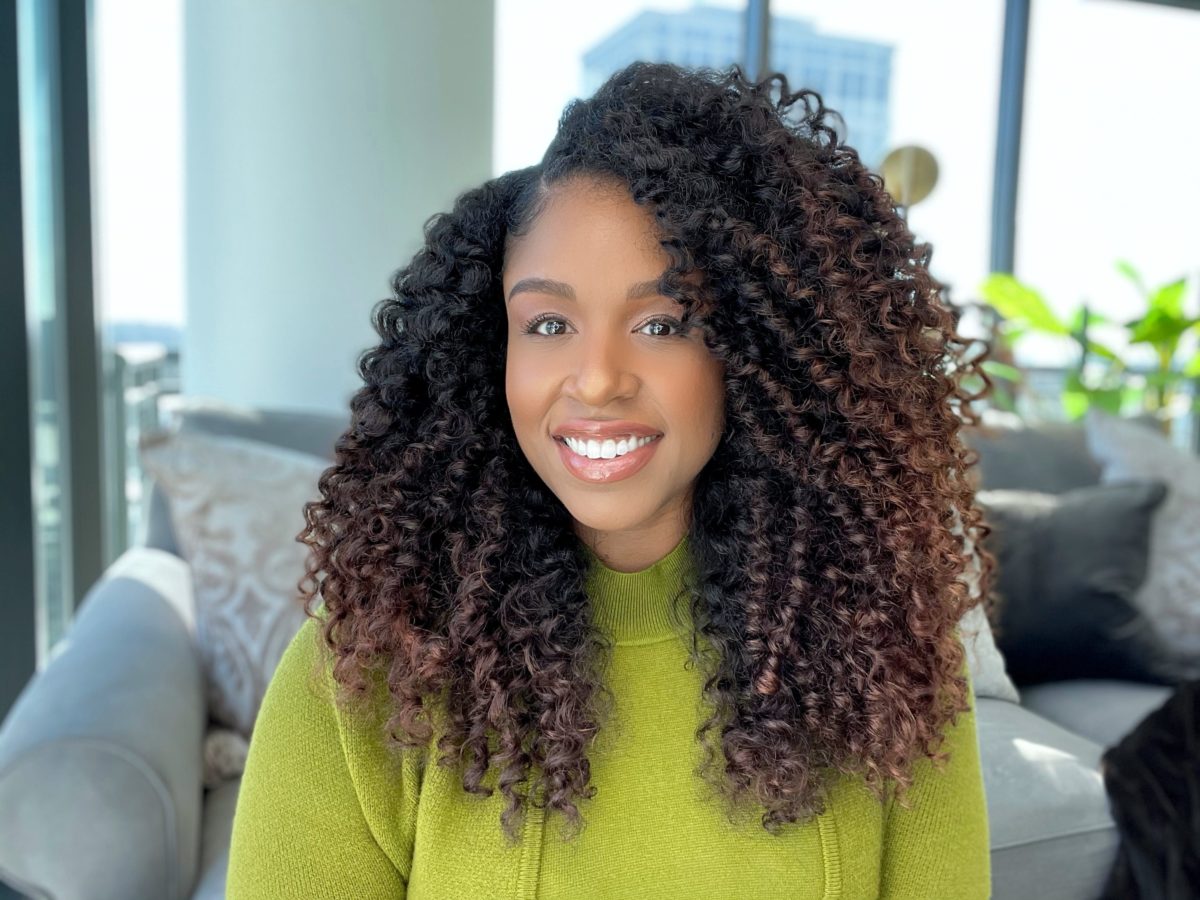 Your guidebook for damage prevention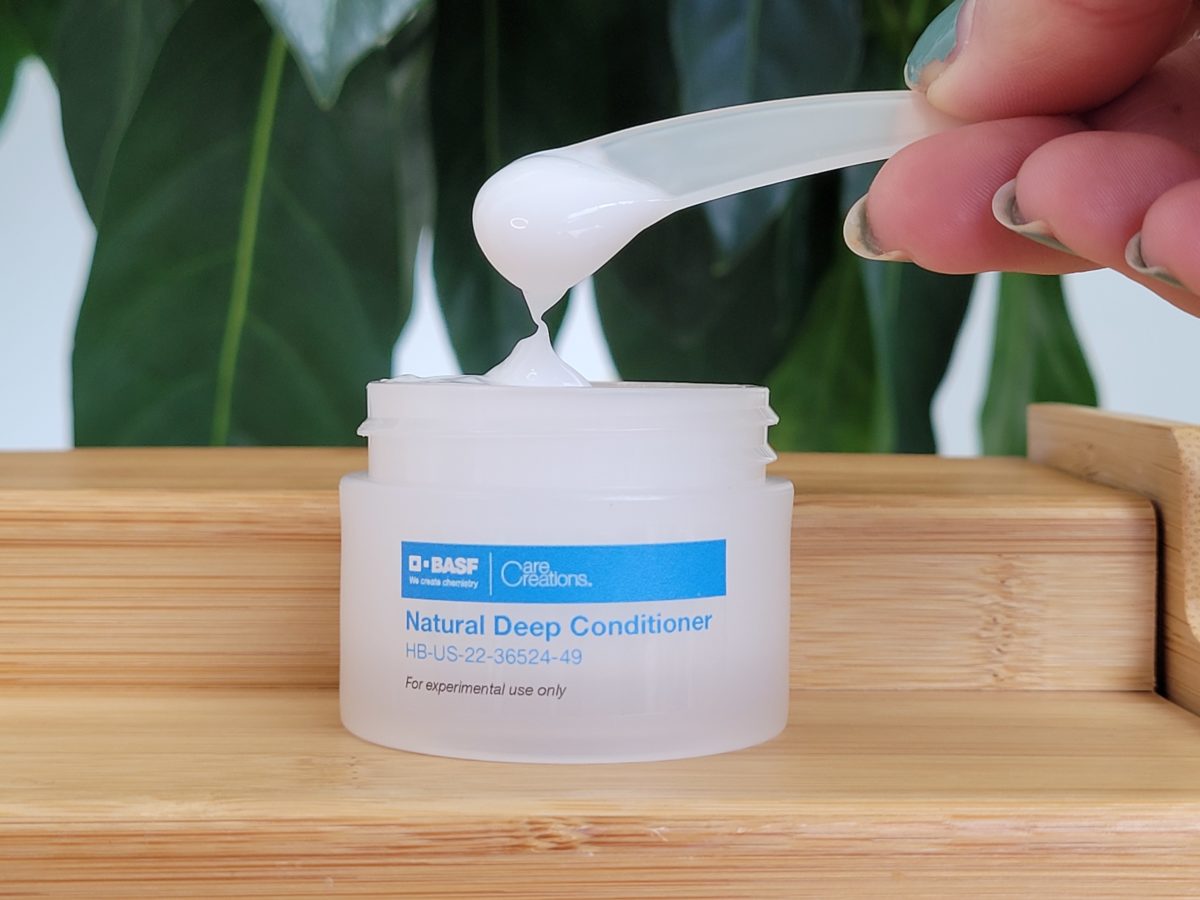 We discovered that the natural oils found on scalp can have a hard time working their way down the shaft, which can lead to dry and damaged textured hair. Natural hair can become further damaged by coloring, bleaching, use of heat tools, or even combing. To keep hair moisturized, BASF's Natural Deep Conditioner works to condition and detangle your hair and limit the stress of combing. Tested on bleached curly and coily hair, this conditioner features Cetiol® SoftFeel, a sustainable, soft-solid petrolatum alternative, that helps heal and nourish for healthy-looking hair. Great for producing softer hair and smoother cuticles, this rinse-off mask is a perfect natural way to give your hair a boost before you even leave the shower.
Discover a masterpiece of style and conditioning
To further condition and manage your hair, BASF's Leave-in Conditioning Lotion features Cosmedia® Ultragel 300, a polymer specifically identified for its multifunctional benefits effective in conditioning and style maintenance. Cosmedia Ultragel 300 also helps soften hair, smooth cuticles, and provide frizz protection for manageable, defined, and bouncy curls and coils. By working to restore and balance hair, your hair is given the optimal hydration it needs. This formula can be used alone or as a prep before using a styling product.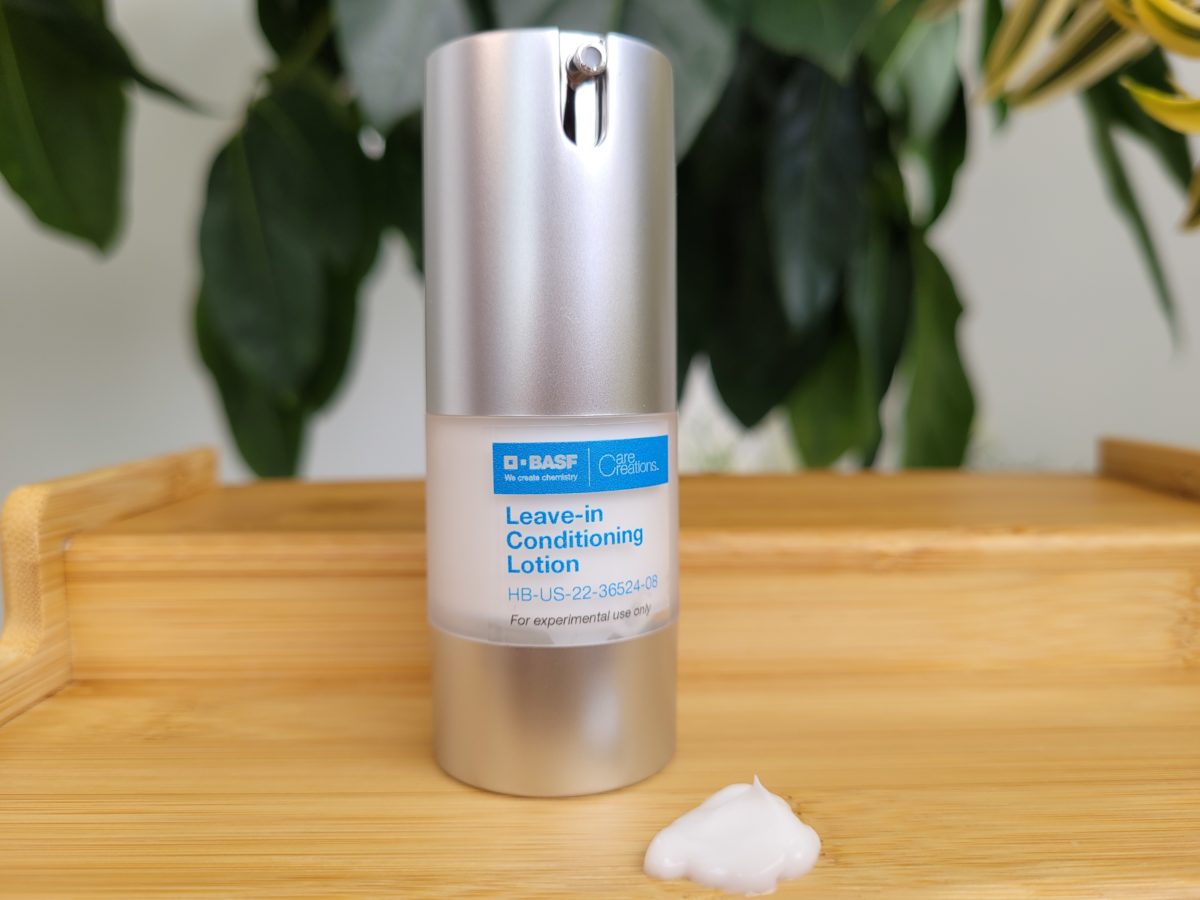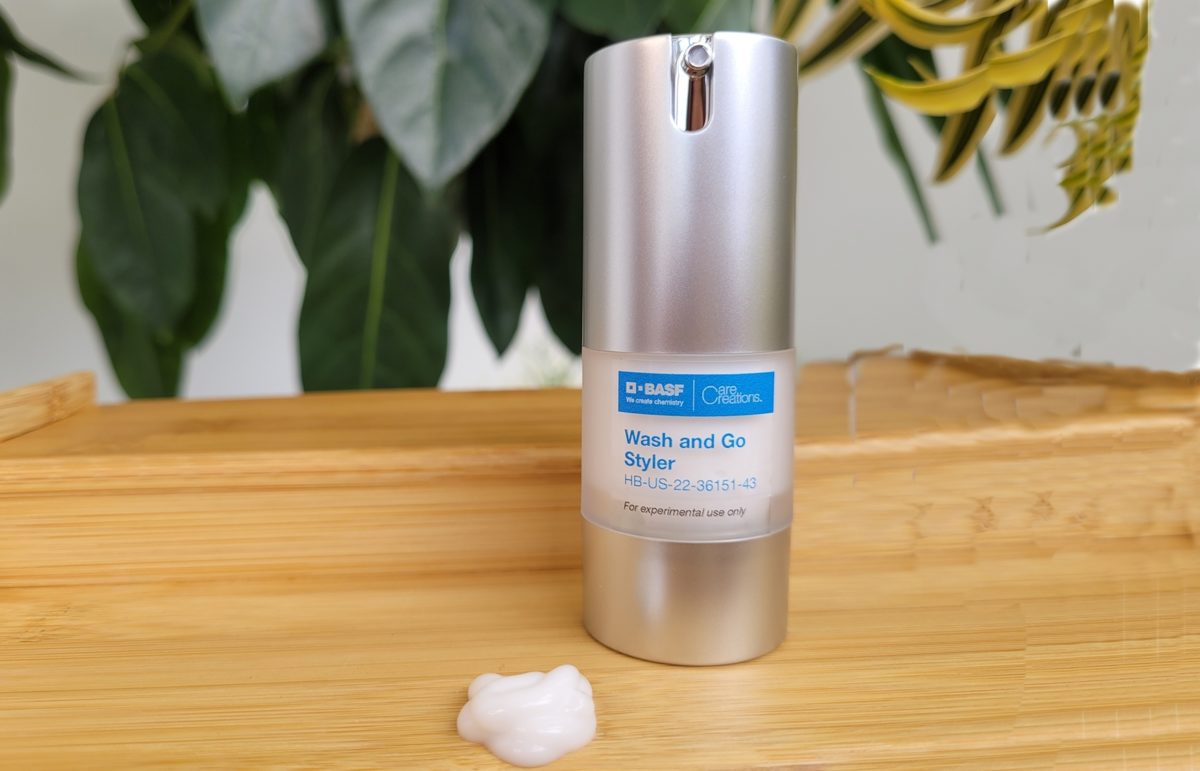 Stay strong, Go the distance
While keeping hair moisturized is the best method to prevent hair breakage, it's not a flawless way to keep your hair stress-free. Bleaching, coloring, combing, or braiding can damage hair. By using cyclic testing, BASF emulated combing forces and tested our protein range to find the perfect candidate for repairing and strengthening damaged natural hair. The ingredient that rose to the top was Gluadin® Kera P LM, our vegan micro-protein that penetrates deep into the cortex to refill and reload your hair with plant-based building blocks to repair hair damage.
Finally, you need something to maintain your style and keep your look fresh throughout the day. We looked for the perfect polymer that is effective in providing long-lasting frizz management and curl control by testing hair tresses that were exposed to high humidity. We wrapped it all up in a neat formula, our Wash and Go Styler featuring Verdessence™ Xanthan, a natural and vegan bio-polymer. This conditioning, leave-on styler provides a protective barrier around strands, helping maintain long-lasting hold for beautiful, managed hair no matter how high the humidity is.
Our adventure doesn't stop here
There's no secret guidebook or a one-size-fits-all routine for textured hair. That's not a bad thing…it's a call to action. Every person who decides to appreciate or rediscover their natural hair texture helps pave the path for others listening in.
BASF is working to erase the beauty industry's neglect of natural hair, and the best way to do that is for all of us to keep the conversation going and then collectively act. We believe that the only way to build a better, more inclusive world is to build it ourselves together. For us that means putting textured hair first, right down to the finest ingredients.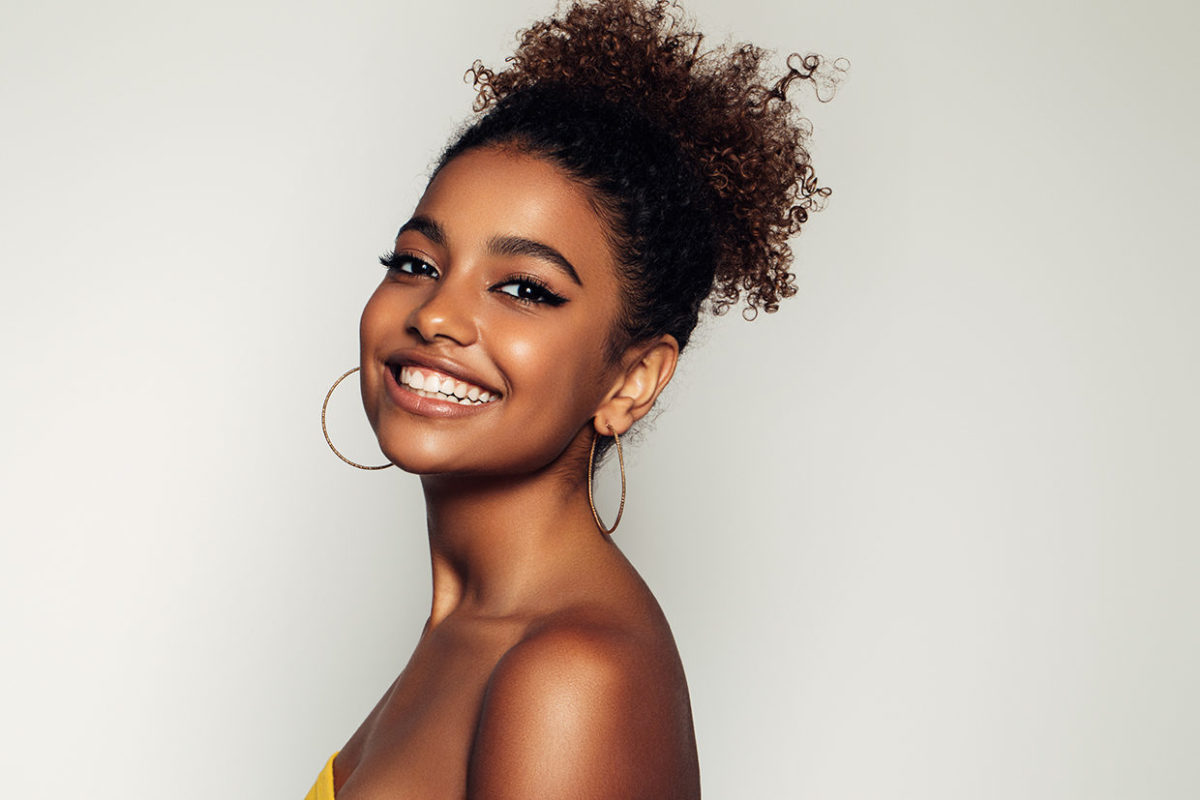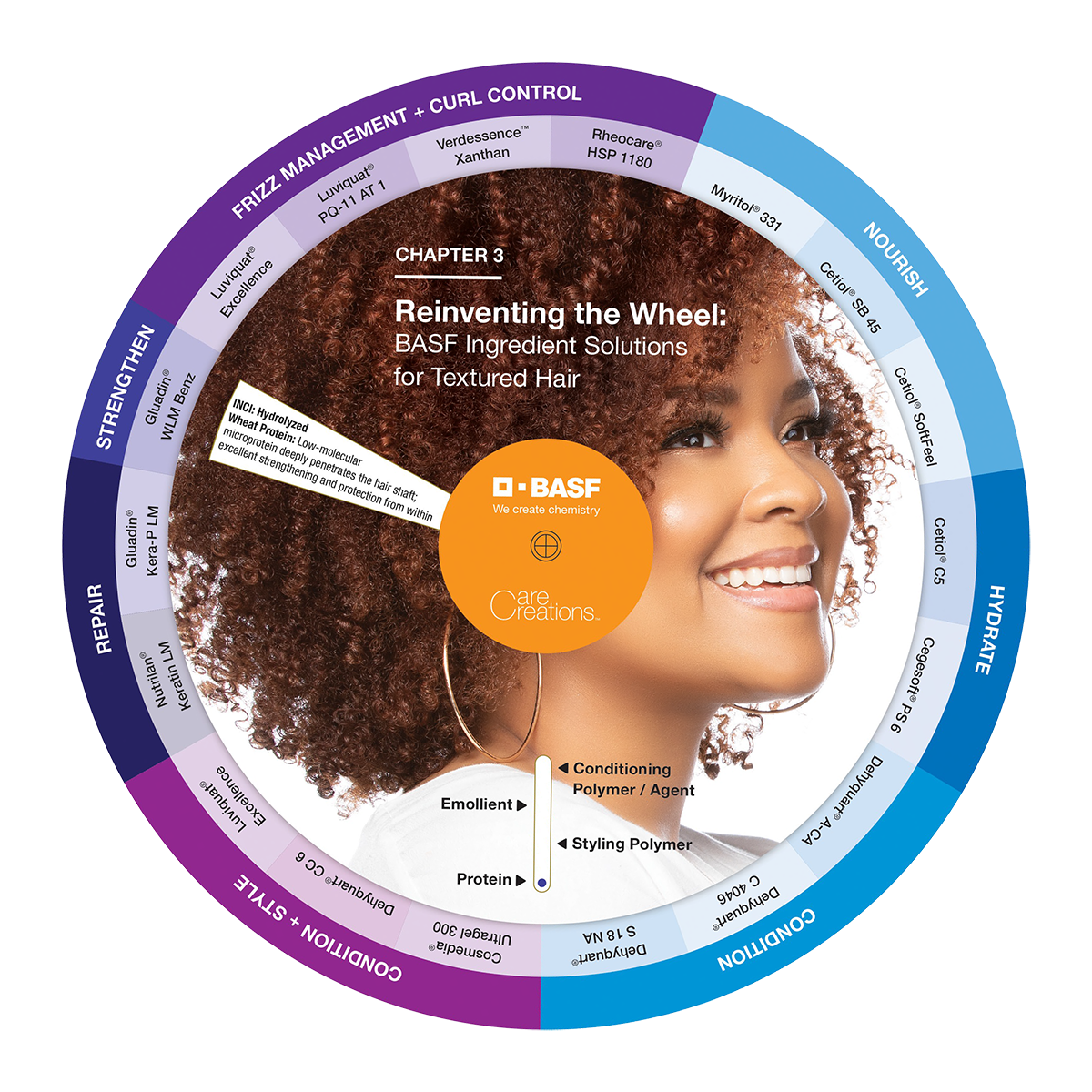 Reinventing the Wheel
To help with your textured hair formulation journey, BASF has created an easy-to-use analog tool that is the perfect addition to your lab bench. Our Reinventing the Wheel ingredient finder spotlights many textured hair ingredients, backed by data, that meet the demand for different claims such as conditioning, strengthening, and frizz management. Just pick up the wheel, spin it to your desired claim and see which BASF ingredients fit your hair formula's needs. There's many to choose from!
To get your own FREE Reinventing the Wheel textured hair ingredient finder, Click Here!

*Available only to registered Care Creations users.

+ Watch the "Reinventing the Wheel" video!
Formulas mentioned in this story: